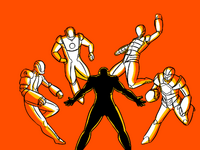 A group of villains under
CEO Slick
's command and enemies of
Bombastic
.
Created June 28th, 2015.
Somehow, through some means, CEO Slick was able to acquire Bombastic's first containment suit. When Slick's oil entered the suit, it mixed with residue left behind inside of it resulting in new beings like Slick being created. Slick promptly capitalized on this by having his people reverse engineer the suit and create new ones for his "children" so they could go and capture Bombastic, allowing Slick to build an army of loyal minions.
They are able to merge together in one large super being with Slick forming the head, but this is a terrible idea on everyone involved's part as they do not mix well. This has also lead to them coming into open and legal conflict with Full Body Beat Down as they feel their gimmick is being ripped off. So far Slick's lawyers have been thoroughly suppressing them.
Ad blocker interference detected!
Wikia is a free-to-use site that makes money from advertising. We have a modified experience for viewers using ad blockers

Wikia is not accessible if you've made further modifications. Remove the custom ad blocker rule(s) and the page will load as expected.