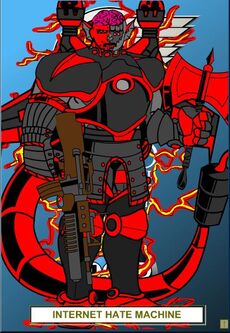 The archenemies of The Justice /co/mrades lead by the evil INTERNET HATE MACHINE.
As the name of the group implies, most members follow the same theme of being based on, or powered by things that should be saged. Personal lieutenants or subordinates are listed under their superiors.
Core Members
Edit
Members who are actually based off of sageworthy traits.
Asset Members
Edit
Members who were recruited because they have something to offer.
Specialist Members
Edit
Members who joined/were recruited specifically to counter certain members of the Justice /co/mrades.
The faceless hoards under the society's command.