Captain Darko



Real Name

Svarog Darko

Aliases

Captain Darko

Affiliations

The Pyrodactyls

Alignment

Evil

Gender

Male

Age

Let's just say around 50ish
An enemy of Chaptor.
The leader of the Pyrodactyls, a crew of pyromaniac pirate pterodactyls, and mercenary for hire.
He has butted heads with Chaptor on such occasion where the likes of Ursus McFlannigan hired him to burn down Buckingham Palace. His grudge against Chaptor is purely professional as every time the velociraptor gets involved, he and his crew loose a paycheck.
Equipment
Edit
He has an entire fleet of dirigibles at his disposal that work for the highest bidder or for whatever prize the captain has his one good eye set on.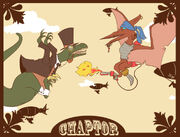 Each member of his crew is outfitted with a flamethrower attached to their backs and control the nozzle with their feet while in flight.