The Jackalope



Real Name

Unknown

Aliases

The Jackalope

Affiliations

Independent

Alignment

Good

Gender

Male

Age

Unknown
A young man who was bitten by a radioactive rabbit as a child and developed strange powers. First mentioned in this 
thread
.
As a child he was bitten by a radioactive rabbit while on a hike. Soon he began to grow antlers, and found that he now possessed the proportional strength of a rabbit, granting him the ability to leap several stories into the air and speed that he didn't have before. In time he would meet a telepathic Jackalope and the two would become a mighty team.
Can jump several stories, can ingest any plant material without a problem regardless of how poisonous it is, has actual antlers growing from his head, he also has a telepathic link to his Jackalope sidekick.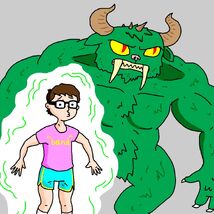 His arch nemesis is a creature known only as the Horrible Hodag, a hipster who once broke a lumberjack's heart and so was cursed to become a horrifying creature.
Ad blocker interference detected!
Wikia is a free-to-use site that makes money from advertising. We have a modified experience for viewers using ad blockers

Wikia is not accessible if you've made further modifications. Remove the custom ad blocker rule(s) and the page will load as expected.