Windbreaker



Real Name

Wendy

Aliases

Windbreaker

Affiliations

Alignment

Good

Gender

Female

Age

Unknown
Ascended character from constant fetish threads, just deal with it less you fall victim to trolling.
Windbreaker was once a normal girl, but upon eating a strange, super powerful batch of chili at a local cook-off, she transformed into a gaseous avenger!
Together with John "Pepper" Haze and her friendly rival, Sweet Potato, she battles the evil Iron Colon, deals with Reverend Jeremiah Pinesoul's harassment, and seeks to foil the plans of Chili-Con Carnie.
She's an occasional ally of The Friends of the Justice /Co/mrades, but is not often associated with them.
At some point, Chili-Con Carnie managed to get a sample of Windbreaker's DNA and create Gusty, a clone of her.
Her powers include smokescreens, explosive attacks, super-speed, and flight... with the side effect of different noxious fumes depending on what she's eaten.
The chili in question that granted her these powers was created by none other than Chili-Con Carnie himself.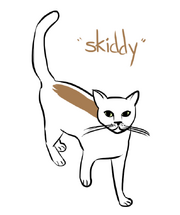 Windbreaker's pet cat.
Skiddy, the formerly once beautifully white cat was forever marked by Windbreaker in an unfortunate mishap. On the night her powers awakened, in a frantic haste she mistook the poor kitty for toilet paper. On that day kitty became the ever depressed SKIDDY!